Amy's Story
---
Life before Addison's I have always lived a very active life, taking part in exercise, enjoying studying alongside a busy family and work life. In January 2019 I was training for a 23km run in Chamonix, called The Cross Du Mont Blanc, a run I had completed twice previously. To my surprise I was finding it extremel...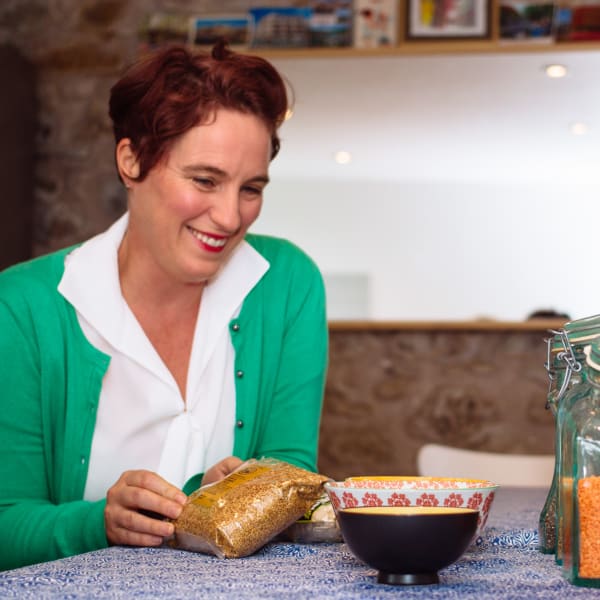 Work with Amy
Nutritional Therapy 1:1 Consultations
For busy men and women who want to feel more energetic, improve digestion, balance hormones, support immunity and want to feel 'themselves' again. All advice is based around making 'Small Changes to gain Big Results' and emphasis is placed on a Food First approach.
View our packages
Free Health Advice
Whether you're a busy mum who needs energy to see you through from one school-run to another, you're a professional working all hours; you're a sports enthusiast facing a personal best challenge, or you simply want to feel healthy and well, and enjoy life... read Amy's latest articles, recipes and advice on healthy living... helping you feel like you again...
An experienced and accomplished Nutritional Therapist
Ian Craig
The founder of the Centre for Integrative Sports Nutrition (CISN) talks about Amy and how she has helped educate in the fields of female health and autoimmunity.
Amy is the epitome of an integrated health practioner...whose speciality is autoimmunity...with a deep knowledge base accrued from years of personal and clinical practice.
Clients that Amy has helped...
I have had IBS for a number of years, brought on by parasites (apparently). I never really thought I would get rid of the problem, but I have thanks to my sessions with Amy.
I was taken through various levels of analysis which helped explain what was going on in the gut. These tests were enormously helpful. Amy then supported me through the various changes (short- term usually) in my diet, with various supplements, and out the other end. Amy has changed my life by helping me understand how I can change my gut! Peace has finally been restored, and I am very grateful.
Dr Amanda Goodall
Amy Desborough is an experienced and accomplished nutritional therapist, as well as being a remarkable endurance athlete.
She has written for the Functional Sports Nutrition magazine (FSN) and presented webinars for the Centre for Integrative Sports Nutrition (CISN); I highly value her specialist input around female health and autoimmune conditions within a sporting context, and look forward to further interactions with her.
Ian Craig - Founder of CISN and editor of FSN
The advice and tips from Amy have been so inspirational.
Over Christmas I usually get into bad eating habits, this year being no exception! I then find it hard to get back into good eating habits and feel rough, to put it mildly! Amy's advice made me soon get back to healthy eating. Within a few days feeling much better, digestion improved and more energetic. The recipes were helpful. Andrew's talks on fitness very informative. Thanks Amy and Andrew.
Julia Mathias
Amy has been absolutely amazing offering us advice and ongoing support.
My daughter had been suffering from chronic constipation for nine years and after many consultant appointments and a huge amount of medication she is now almost off all laxatives altogether. We now have hope and can't thank Amy enough!
Kim Blayney
Amy is a very skilful, experienced and conscientious practitioner.
You are in good hands with her and I highly recommend her services.
Lisa Matthews
I was struggling for months with hot flushes, brain fog, unable to sleep and feelings of being overwhelmed by the smallest things.
This led me to believe that I was peri-menopausal or menopausal. My friend recommended that I should speak to Amy and I haven't looked back - the advice and support have been, without a doubt, life changing - the hot flushes have subsided, I sleep all the way through the night, I can concentrate again and the feelings of being overwhelmed are starting to disappear.
Lisa Steele
Pembrokeshire College has been working closely with Amy Desborough since October 2021, she has been a valuable support with her experience and expert advice to all staff at our Aspire day where she gave an insight on how best help your immune system during covid.
It was one of the most popular and well received sessions we've ever had. Amy is leading our menopause support group for staff, they meet monthly, as Health & Wellbeing Officer I can really see the benefits of being able to provide this service. She brings a wealth of knowledge and expertise, staff are really benefiting from her advice on their Menopause journeys.
Mel Sharrad-Hughes - Pembrokeshire College
Amy has supported my healing journey with diligence, knowledge and integrity.
I feel safe with Amy Desborough because I know she works hard to keep herself informed as much as possible which is so important. I highly recommend Amy if you are looking for help to support your health in a natural and affordable way. Nikki x
Nicola Catto
Amy has been fantastic and has helped me so much on my journey back to better health!
After having various ongoing health problems and digestive issues for many years with no real help from the doctors I sought advice and treatment through Amy as well as regular kinesiology. Amy is very knowledgeable, honest and her understanding nature helps support you through any dietary changes you might need to make. She has been hugely supportive and patient with me as we've unpeeled the layers to try and get to the root causes of my main health problems. A year on and I'm feeling so much better. We're still on the journey but day to day things are much easier and I have less headaches, aches and pains and digestive upsets. I am so grateful to everything Amy has done so far and for her continued support. I would highly recommend. Thank you Amy X
Nikki Ross
Thanks to Amy's expert advice and encouragement, I now feel energised, have glowing skin, better digestion and am proud of myself for making the small changes as the results for me are massive!
I gawped at the thought of eating 7 pieces of fruit and veg a day, I was hardly eating 2, I was drinking copious amounts of tea and coffee and felt so sluggish. Within a week, I could see and feel the difference. I am determined to keep this up, as they were small changes, nothing drastic whatsoever, but the results I am experiencing, make me feel amazing again. Bloating has reduced and my clothes are fitting me better, I am determined to keep going and using Lent to keep off the sugary snacks! Thanks Amy!
Orla Dempsey
Amy Desborough has been an absolutely fantastic support in terms of her ability to pave the way to support me with the changes that I've had to make.
She is hugely supportive, very very compassionate and makes light of the things that you have to change if indeed you do need to make any. My health is absolutely brilliant and a huge part of that has been to do with some very specific nutritional changes which I have adopted under Amy's guidance. It can feel really overwhelming when faced with needing to make adjustments to what, how and when you eat in order to bring yourself back to a state of optimal health and maintain it. When I have had to make nutritional adaptations and was taken right out side my comfort zone, Amy helped me make those adjustments in a really, really easy way. I cannot recommend her highly enough she is absolutely brilliant. Caring, supportive and diligent. Thank you Amy.
Rachel Jenkins
I've joined several of Amy's online groups as I find it's a great way to motivate myself to look after myself better.
I'm definitely eating more vegetables and am enjoying cooking from scratch again. Experimenting with suggestions from Amy's meal planner. My mood has generally lifted, I'm sleeping better as I'm more hydrated and being more disciplined in my bedtime routines. Subsequently I find it easier to get out of bed and am more focused in my work and day to day tasks. I've found the more I've participated in the group, the more I get out of it, and Amy is so knowledgeable, it was great to have her on hand to answer questions, etc.
Rachel Maclean Walker
After suffering from very heavy colds and coughs 2 - 3 times a year and having issues with vertigo and tinnitus, I sought advice from Amy at Eat Well Feel Well.
Amy advised me to cut out cow's milk and introduce a daily dose of Biokult (probiotic supplements) and I am delighted to say I haven't had a cold for 7 years this month and my vertigo and tinnitus are under control too. I would highly recommend approaching Amy who is a qualified nutritional therapist if you have any health concerns or would just like advice on healthy eating/ lifestyle.
Victoria Deacon